Migrating to Electronic Documentation
Move to an efficient paperless client file system without losing your existing hardcopy documents. Coyote Software's CaseWORKS and ScanWORKS solutions were designed to eliminate paper documentation while maintaining complete client files. Paper records can be digitized, uploaded and managed centrally.
Transform all paper records into an organized electronic system that makes any case-related document easily accessible.
Once Digitized, you have the ability to read, approve, sign and forward the electronic documentation as required.
"I think one of the big benefits is having all of the client data in one single database. Before, we had information across a number of different systems and Excel files and paper files, so it was a big benefit to be able to bring it all into one database . . . Basically, we've gone paperless for the services part of our agency."

Move Paperless
With CaseWORKS Integrated Case Management software and the ScanWORKS module, agencies can digitize and maintain complete, paperless client records.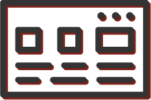 Complete Client Files
With the incorporation of digitized documents into the client file, Case Managers have access to the complete history of their clients all in one place.

Fully Auditable
Digitized documents also become fully auditable, allowing organizations to monitor access to client files.

Enterprise-level case management software designed for health & social service agencies.

Transform all paper documentation into searchable, secure and accessible electronic files.
Coyote's Solutions at Work
When the time came to leave their legacy system behind, six of Ontario's Family Service Agencies formed a partnership and worked with Coyote Software Corporation to craft the perfect replacement. The result: CaseWORKS, a comprehensive case management and recording...
read more
In 2006, the Community Mental Health Clinic Guelph-Wellington-Dufferin adopted CaseWORKS as their information system. To Anna Tersigni-Phelan, it's "a front-line point of care solution that simplifies and streamlines our scheduling and case recording." What's the best...
read more
Reduce the number of steps required to collect, store and share information.
Less time recording and managing data means more time for your staff to do what they do best – more and better service delivery.