Hardware & Network Assessment
Optimized infrastructures don't just happen, they're planned. Proactive analysis of existing hardware and network infrastructure ensures your organization is maximizing the available resources while also providing time to prepare for future needs.
Efficient workflows and business systems should be accessible to organziations that need them.
Receive a comprehensive analysis of your existing hardware and network setup, including examinations of disaster recovery plans, backups, redundancy configuration and hardware compatibility issues. With a proper understanding of your existing technology infrastructure, the analysis will provide you with steps you can take immediately and guidance for long-term considerations and improvements.
"Being able to focus our limited resources on providing direct customer services instead of back-end operational support is immeasurable."

Find Efficiency
Understand the strengths and weaknesses of your current technology infrastructure and the steps required to meet future needs while maximizing efficiency. 

Understand Potential Risks
Receive a comprehensive analysis of potential risks including issues that may develop over time.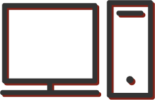 Develop a Resilient System
Get expert guidance in planning for future needs to ensure a resilient technology infrastructure that can respond to changing demands.
Hear how Coyote's Solutions Have Been Implemented
When the time came to leave their legacy system behind, six of Ontario's Family Service Agencies formed a partnership and worked with Coyote Software Corporation to craft the perfect replacement. The result: CaseWORKS, a comprehensive case management and recording...
read more
In 2006, the Community Mental Health Clinic Guelph-Wellington-Dufferin adopted CaseWORKS as their information system. To Anna Tersigni-Phelan, it's "a front-line point of care solution that simplifies and streamlines our scheduling and case recording." What's the best...
read more
Start Building your IT Strategic Plan today.
Ensure your organization is prepared to meet your future goals. Contact us for information on getting your custom IT Strategic plan today.