Counselling: Individual Group, Family, Couple
Good Counselling solutions must be capable of managing the complexities of individual, couples, family and group counselling without increasing time spent entering data and pulling statistics for funders.
Front-line workers need the right tools to quickly triage clients, process urgent demands and determine next steps for each brief encounter or crisis situation.
Coyote's approach to case management solutions is to maximize the ability of staff to access the information they need to make decisions quickly while minimizing the steps necessary to process a client.
"It's exceptionally helpful to be able to utilize the group management feature in CaseWORKS. We use it for some of our parenting programs, therapeutic groups, and educational groups. We can see the notes for those programs for each person, and it's easy for the group leader to assign and track time spent in a group activity for each member of the group."

Seamlessly Manage Individuals, Couples, Families and Groups
Adopt a robust solution that eliminates the complexities of enrolling clients in different types of individual and group services, each of which needs to be tracked in its own unique way.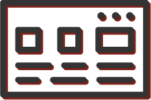 Improve the Coordination of Group Counselling Services
Reduce the amount of time spent managing group programs while enhancing your ability to track and measure effectiveness and outcomes.

Streamline Brief and Crisis Services Management
Minimize the steps necessary to process a client in need of brief services or emergency care. Custom assessment tools help you to quickly triage new, returning or anonymous clients, process urgent demands and determine next steps.
Coyote's Solutions at Work
When the time came to leave their legacy system behind, six of Ontario's Family Service Agencies formed a partnership and worked with Coyote Software Corporation to craft the perfect replacement. The result: CaseWORKS, a comprehensive case management and recording...
read more
In 2006, the Community Mental Health Clinic Guelph-Wellington-Dufferin adopted CaseWORKS as their information system. To Anna Tersigni-Phelan, it's "a front-line point of care solution that simplifies and streamlines our scheduling and case recording." What's the best...
read more
Enterprise-level case management software designed for health & social service agencies.
Transform all paper documentation into searchable, secure and accessible electronic files.
Reduce the number of steps required to collect, store and share information.
Less time recording and managing data means more time for your staff to do what they do best – more and better service delivery.