Integrated Case Management
Case management involving returning clients, anonymous clients, special needs, couples, groups, families, multiple programs, multiple caregivers and multiple agencies adds complexity that requires a robust system to meet the needs of effective service delivery, data collection and the associated statistical reporting.
Case Management Solutions need to reflect the complexity of supporting high-volumes of clients within cross-functional, multi-service organizations.
Coyote's approach recognizes the need to address implementing case management systems in a holistic manner, working with organizations to provide solutions through the adoption of technological solutions as well as process and change management guidance.
"It is a really big shift for us. Now, it's easy for us to find the information we need. We're able to be more responsive to the clients when they call and ask, 'When's my next appointment?' Or if they tell us something in confidence, we can make sure it's confidential in the system. And yes, for intake in a crisis, to be able to have that information in your hands right at the moment that they call you, is definitely significant for us."

Spend Less Time Reporting
Get access to a comprehensive report library with real-time data that can quickly and accurately pull information for any funder, grant or stakeholder.

Simplify Client Scheduling
Improve program administration with a scheduling system fully integrated with your client and case management solution.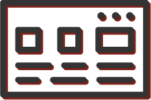 Create Detailed Client Histories
Adopting Coyote Software's CaseWORKS Case Management system enables the creation of comprehensive case files for each client and their unique pathway through your services.

Optimize Your Workflow
Receive guidance on best practices and process improvements built on years of experience with systems integrations and complex service models within health and social service organizations.
Coyote's Solutions at Work
When the time came to leave their legacy system behind, six of Ontario's Family Service Agencies formed a partnership and worked with Coyote Software Corporation to craft the perfect replacement. The result: CaseWORKS, a comprehensive case management and recording...
read more
In 2006, the Community Mental Health Clinic Guelph-Wellington-Dufferin adopted CaseWORKS as their information system. To Anna Tersigni-Phelan, it's "a front-line point of care solution that simplifies and streamlines our scheduling and case recording." What's the best...
read more
Service Coordination through CaseWORKS
The CaseWORKS Service Coordination module connects agencies across an entire community through one referral point.
This approach to managing referrals helps to streamline access to care and compliments more integrated case management systems.
Reduce Wait Times
Simplify Registration
Prevent Duplication of Services
Improve Communication Between Service Providers
Contact Us to learn more about Service Coordination.
Coyote Software specializes in providing software solutions to health and social service organizations. We currently support organizations in the following sectors:
Adult and Children's Mental Health
Adult and Children's Developmental Services
Child Welfare
Partner Abuse and Assault Services
Violence Against Women and Women's Shelters
Family Counselling
Adult Addictions
Corrections and Probation
Inpatient Mental Health and Addictions
Immigrant and Settlement Services
Seniors Mental Health and at Home Services
Enterprise-level case management software designed for health & social service agencies.
Transform all paper documentation into searchable, secure and accessible electronic files.
Reduce the number of steps required to collect, store and share information.
Less time recording and managing data means more time for your staff to do what they do best – more and better service delivery.