Regional Service Coordination plays an integral role in simplifying access to community supports. For service coordination to work, it needs to be powered by an information system that connects all the participating agencies across an entire community.
Service Coordination is the solution that connects each agency in a community with a single referral point.
This approach to managing referrals helps streamline access to care and compliments more integrated case management systems.
"Coyote custom-developed a portal for us that will be the front door for mental health and addiction in our region. We're going to call it the Waterloo Wellington Mental Health & Addiction Portal (WWMHAP). It has call centre and intake capabilities. With it, we become the front door for ten mental health and addictions agencies, and we do their referrals, their crises, and their wait lists."

Reduce Client Wait Times
Communities with multiple service providers can be confusing for clients to navigate. Coordinating referrals through one source simplifies the process of seeking help and prevents clients from needing to sit on wait lists only to be referred to other organizations.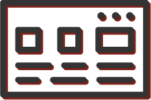 Prevent Duplication of Services
Service Coordination leads to more informed referrals and eliminates the likelihood of clients accessing duplicate or inappropriate services.

Improve Communication with Community Partners
Standardizing referrals allows organizations to integrate the client and referral details into case management systems quickly and consistently.
Coyote's Solutions at Work
When the time came to leave their legacy system behind, six of Ontario's Family Service Agencies formed a partnership and worked with Coyote Software Corporation to craft the perfect replacement. The result: CaseWORKS, a comprehensive case management and recording...
read more
In 2006, the Community Mental Health Clinic Guelph-Wellington-Dufferin adopted CaseWORKS as their information system. To Anna Tersigni-Phelan, it's "a front-line point of care solution that simplifies and streamlines our scheduling and case recording." What's the best...
read more

Enterprise-level case management software designed for health & social service agencies.

Transform all paper documentation into searchable, secure and accessible electronic files.
Reduce the number of steps required to collect, store and share information.
Less time recording and managing data means more time for your staff to do what they do best – more and better service delivery.