Transforming Workplaces Since 1992
Coyote Software Corporation specializes in providing software solutions to health and social service organizations. We offer a full range of software development, business consulting and systems integration services tailored to the unique needs of organizations supporting our communities through the delivery of health and social services.
Thousands of people across North America rely on our software and expertise every day.
We believe that technology can enable more effective delivery of health and social services. Our goal is to support our clients in achieving their service delivery goals and strategic objectives through the thoughtful incorporation of technology solutions, expert guidance and strategic insights.
"Our relationship with Coyote is truly a collaboration. It's not Customer-Vendor, it's a partnership. They're very invested in making us successful, and we're invested in helping them make their products better. They've developed an extensive customer base in this sector, and they have that inherent knowledge of how the sector works, and what we need to succeed."

Supporting Health & Social Services
We're passionate about supporting the health and social services sector through software development and business solutions.

Workflow Experts
Over 20 years' experience implementing solutions that thousands of people across North America rely on every day.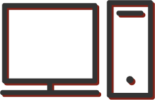 Cost Effective Enterprise Solutions
We believe efficient workflows and business systems should be accessible to organizations that need them.